Bates Beach Nudists
Group for nudists who frequent Bates Beach(Ventura County, Ca) or would like to.
You probably noticed that daylight is getting shorter. Sooner or later, it's going to be cold, too cold for the beach.

If you missed the beach party last Saturday, you have another chance to meet, greet, and (hopefully)assist
in this yearly event - an opportunity to engage socially with your fellow nudists/naturists
and maybe meet old friends or make new ones.

When: Saturday, September 15, 9:00 AM to 7:00 PM
Where: Bates Beach, Carpinteria, CA

More details of this event: socalnaturist.org/calendar/scnacal.php?year=2018&month=sep
This topic was edited
RE:California Beach Cleanup / Bates Beach Party
If you want to participate in the California Coastal Cleanup Day
and want to find a beach location, go here: www.coastal.ca.gov/publiced/ccd/ccd.html

If you want to participate in Bates Beach cleanup, please take note:

"While we appreciate those of you who just show up at the last minute, if we have a
head count ahead of time we can better prepare with enough rubber gloves, bags, and pens.
Please bring your friends, kids, neighbors, etc" - friendsofbatesbeach.org/beachcleanup.html
This post was edited
RE:California Beach Cleanup / Bates Beach Party
I was able to participate in the cleanup this year after missing the last two years.
The weather was fantastic.
Thanks to the ongoing activities of the SCNA there was not a lot of trash to pick up.
The number one item was bags of dog poop that the owners were to lazy to carry back to the trail head were the trash containers are located.

Regarding nudity on the beach. After the cleanup we were able to spend many hours sunning, swimming and I even took a long walk along the beach all nude without any issues.
Now the get together a few weeks before was a little different. First the weather was a little cooler but still pleasant.
Second, someone quite a distance from us decided to call the police and complain about the nudist on the beach.
The officers had to walk down the beach to ask us to cover up. Actually by the time they reached us, we were already covered.
We stayed covered for about an hour then resumed our nude sunning and swimming. I felt bad for some of those there, in that they had only been there a short time and had to leave before we felt comfortable being nude again.

The bottom line is we can use it nude as long as no one complains. Even if their is a complaint, as long as you agree to cover up you do not need to worry about any repercussions.
This post was edited
California Beach Cleanup / Bates Beach Party
Did you miss the previous beach parties?

Want to help out and enjoy another(probably the last for 2019) beach party
with your fellow nudists/naturists before warm weather ends?

Where: Check Here

More info at - friendsofbatesbeach.org

When:



Note: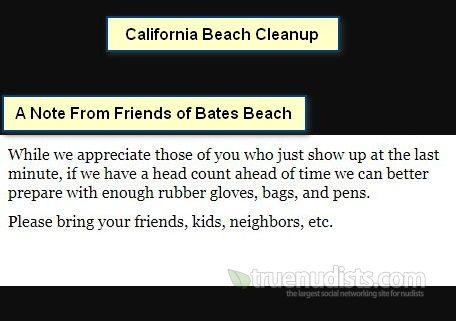 This post was edited

RE:California Beach Cleanup / Bates Beach Party

I was part of the beach cleanup on Saturday (9/21/19) and the get together afterwards.
I want to thank Gary, Rolf, and all the Friends of Bates Beach and SCNA members for there hard work in organizing this event and all they do to promote the clothing optional use of the beach.

Gary spoke to the new ranger for the area and explained the history of the beach.
He was fine with us using the beach along the sea wall and points north nude as long as there were no complaints or lewd behavior.

We set up our area about noon. The weather was perfect. Clear skies, mild temps and cool and calm sea conditions.
Surprisingly for the last weekend of summer, there were not that many textiles at the beach.
There were the usual dog walkers and others that walked past but no one made any complaints about us being nude on the beach.

I had such a great day that I returned the next day.
I arrived on the beach again about noon.
There were a few high clouds but otherwise the same conditions as the day before.
This time though I was the only nudist there.
About 1:00, one of the others from the day before did come down and join me on the beach.

At one point we walked about a mile north along the beach.
I did not take anything to cover with but the other gentleman was more comfortable carrying his shorts.
There were a few others walking the beach but again no problems.
We met a woman at the north end who we talked to and she joined us on the walk back.

I had a conversation with a woman as I was leaving the beach. I had already put on my shorts so was not nude but I believe she had seen us nude on the beach.
She asked about what the conditions were in the water for swimming.
Apparently years ago at another beach she had been caught in a rip current and was nervous about it happening again.
I told her the conditions that day were perfect and you could actually go out past were the waves were breaking and still be able to touch the bottom.
While we were talking I told her about doing the cleanup the day before and that there were some of us that like to use the beach nude.
She told me she was a long time resident and even though she was not a nudist was sad when they closed the beach to nude use.

All these encounters again reinforce my belief that the majority of individuals do not have a problem with simple nudity.
It is only when in large groups that they feel they have to react in a negative way else they be considered different and in our society were the number if friends you have seems to be a measure of your worth, being different and risking loosing friends can be hard to deal with.

I encourage all nudist in the Los Angeles, Ventura and Santa Barbara areas to please, whenever possible, spend some cloths free time at this beautiful beach.

This post was edited

\